The essentiel souvenirs to bring back from Lisbon
Have you arrived in the Portuguese capital or have you already planned your trip ? Now, are you wondering what you will bring back from your weekend or your trip to Lisbon ? I have selected for you 10 essential souvenirs (food, drinks, cakes and objects) to absolutely bring back. As you will see, while going through Lisbon, you will want to bring back a lot of things, and bring back a piece of Portugal with you …
Here are the 10 gifts to bring back from your holidays in Lisbon that I will present to you :
Pasteis de nata, Portugal's most famous dessert
Boxes of sardines
Ginjinha, a cherry liqueur
Salpicão, a traditional smoked sausage
A good bottle of olive oil
A bottle of red wine and / or a bottle of white wine from the Lisbon area
Coffee
Cheese
A miniature tramway
Azulejos
---
BOOK YOUR ACTIVITIES AND ATTRACTIONS IN LISBON >>> HERE
---
1. PASTEIS DE NATA – The most famous Portuguese pastry in the world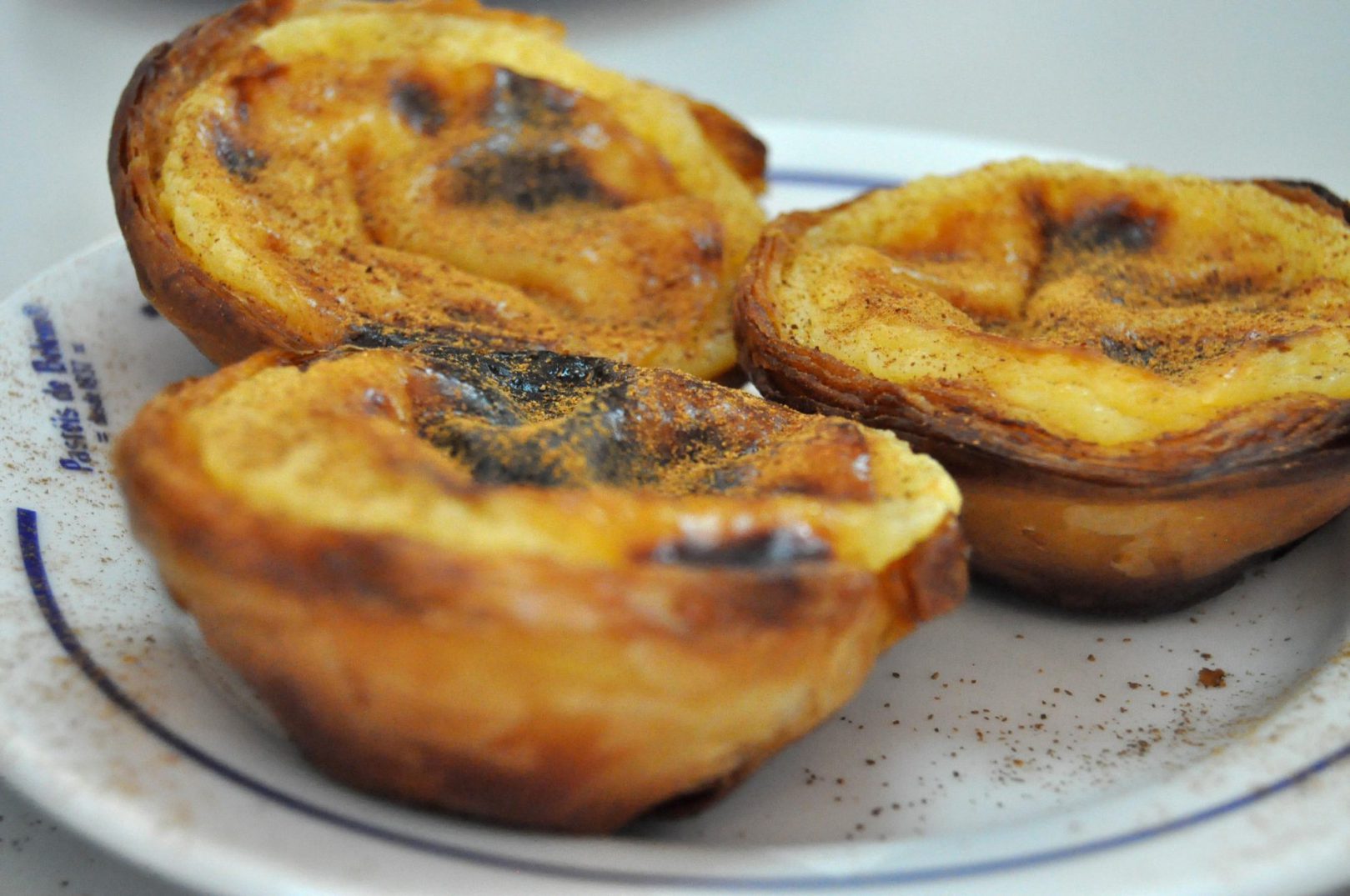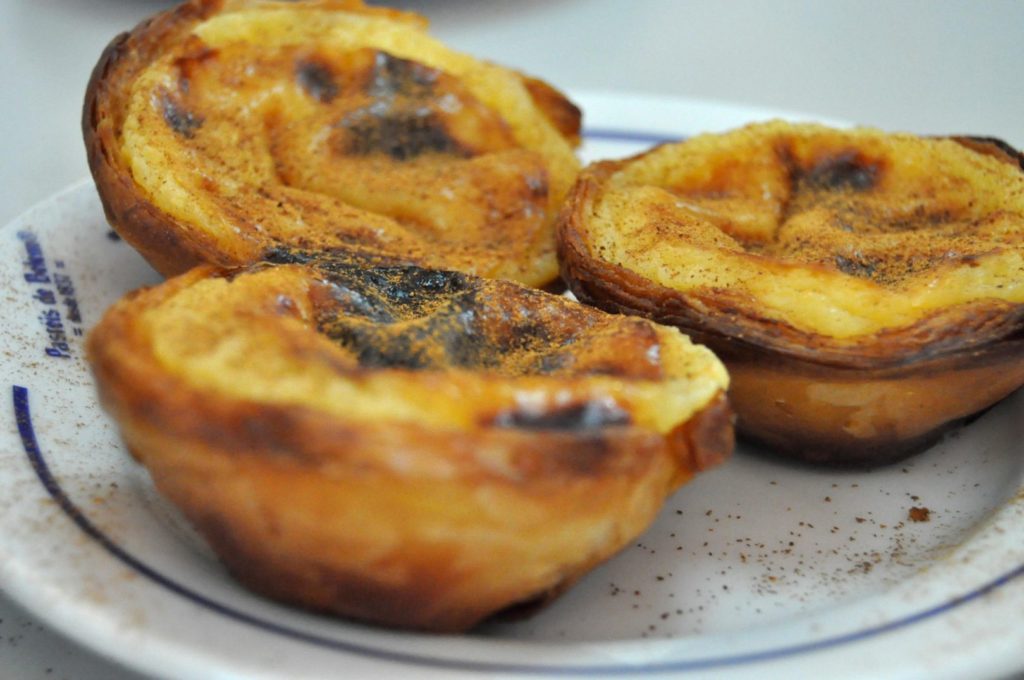 We no longer present the pastel de nata. However, in case you have never heard about this world famous Portuguese dessert, it is a custard. In the purest tradition, it is served hot and powdered with cinnamon before tasting. Lisboans are literally addicted to this little cake that they are able to enjoy at any time accompanied by an espresso or a latte. It is not unusual to see pasteis de nata served in the morning at the pastry shop (pastelerias), after lunch, in the afternoon or early evening. In Lisbon and Portugal, people eat pasteis de nata at any time and on any occasion (daily life, weekends, ceremonies, receptions etc.).
Other pastries of Lisbon not to be missed : Bola de Berlim, Pastel de Feijão, Bolo de Arroz, Queijada de Sintra
Check out my article to find the best places to buy pastéis de nata in Lisbon.
---
2. SARDINE BOXES – Sardine, one of Lisbon's emblems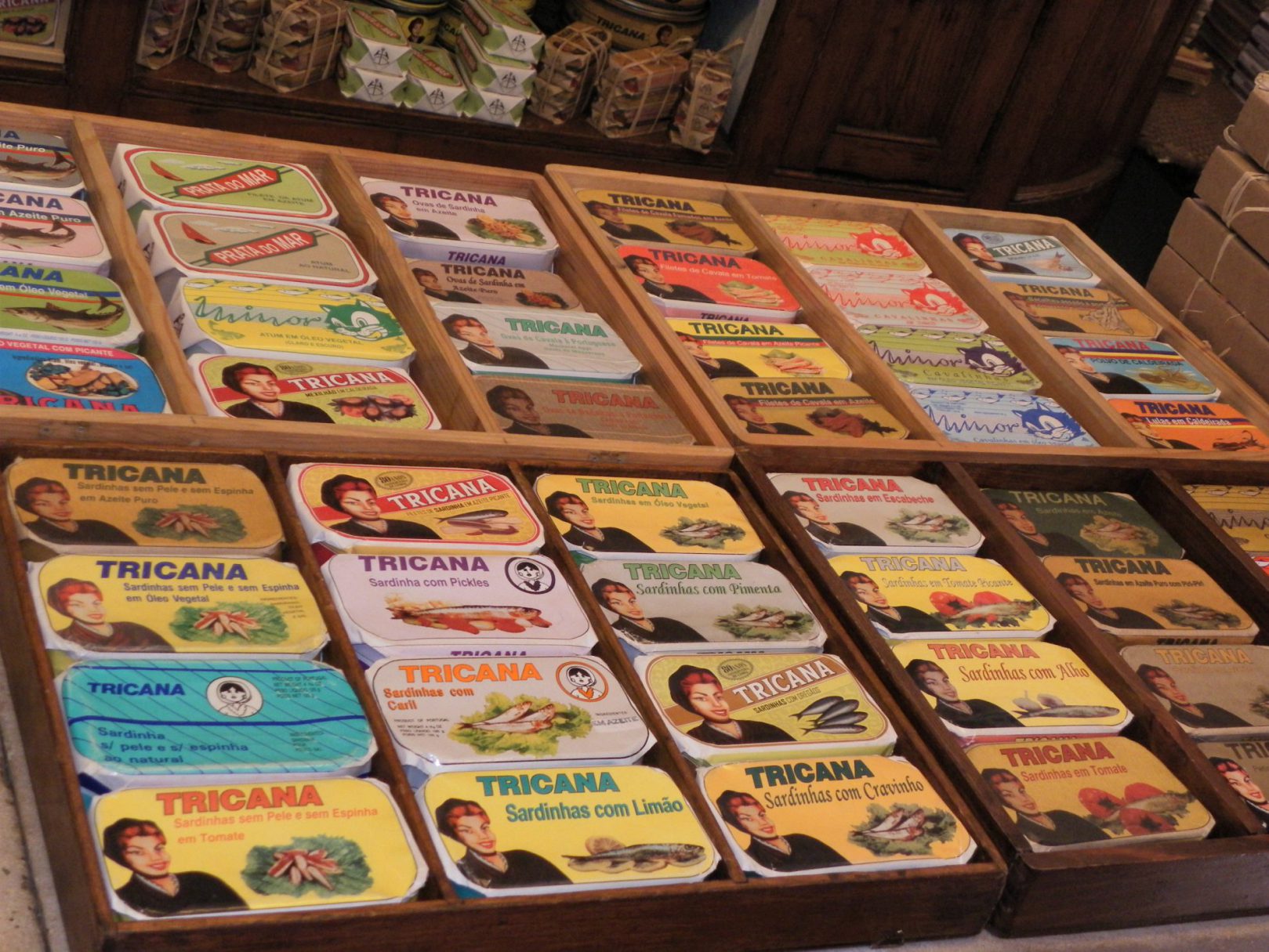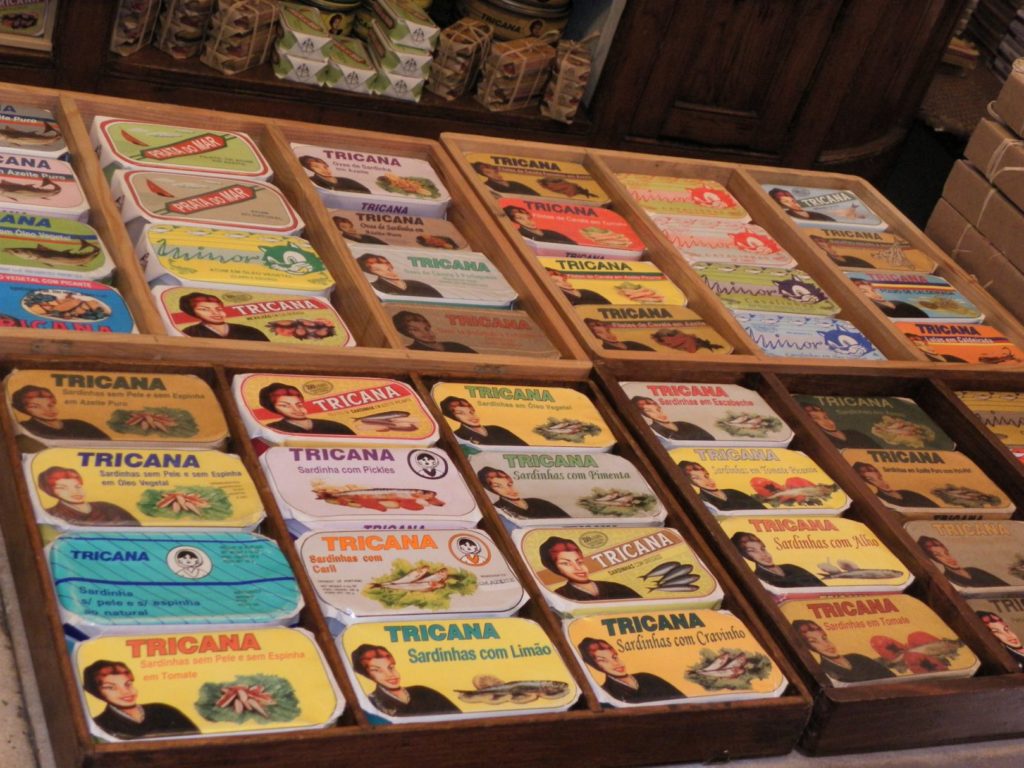 Sardine (sardinha) is one of the symbols of the city of Lisbon. During the festivities of Saint Anthony of Padua (Santo António de Lisboa) in June, the city is in celebration and the tradition is to eat grilled sardines in the street with the neighbors of his district. Sardines in all forms also serve as decoration (cushions, lanterns, etc.). In recent years, the return of vintage in Portugal has seen the return of historic brands with retro packaging. Heaps of "old-fashioned" sardine cans have multiplied and tourists are snapping them off at souvenir shops, supermarkets and vintage shops. You will find sardines to suit all tastes: olive oil, sunflower oil, lemon, garlic etc. These boxes are often excellent, I often compare them to boxes of Breton sardines which are also of excellent quality.
Les conserves à ne pas manquer également : boîtes de thon (atum), boîtes de morue (bacalhau), boîtes de poulpe (polvo), caviar portugais
Canned foods not to be missed too : tuna cans (atum), cod boxes (bacalhau), octopus boxes (polvo), Portuguese caviar
The best places to buy canned sardines and canned foods in Lisbon :
---
3. GINJINHA – The cherry liquor, symbol of Lisbon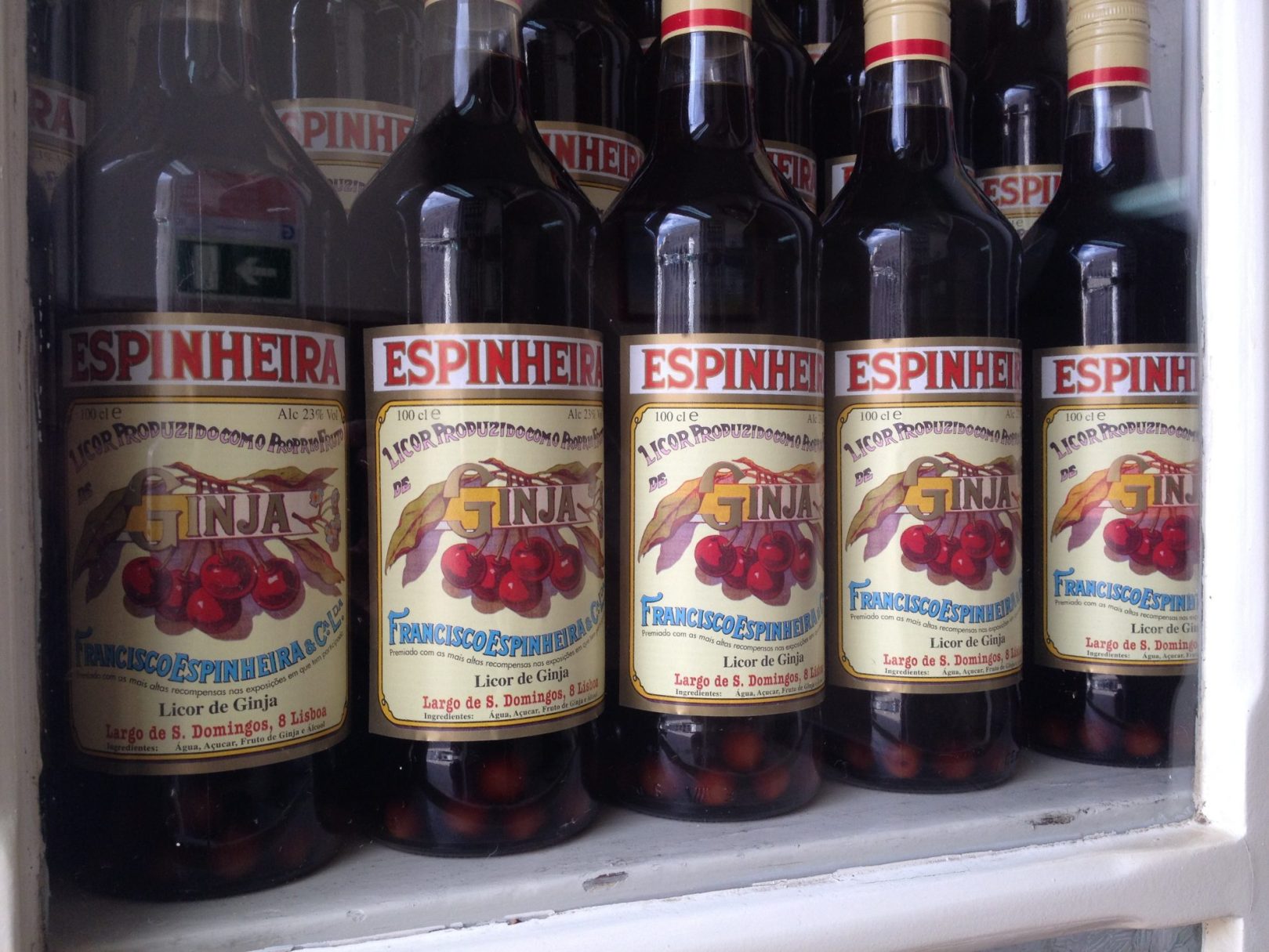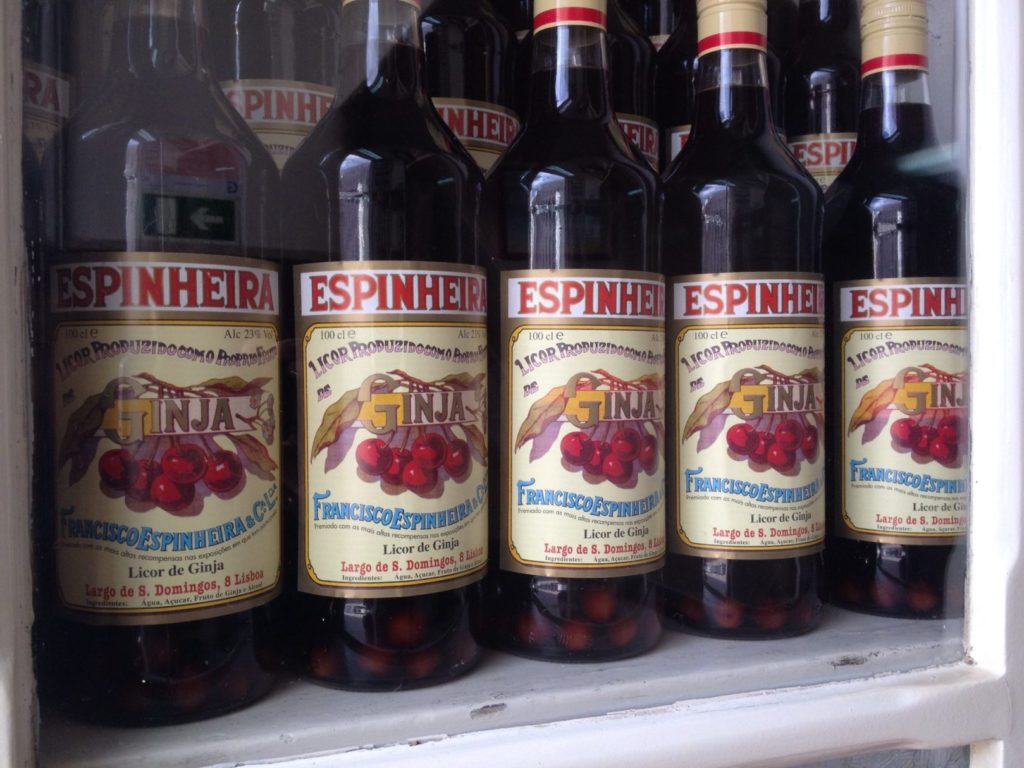 Ginja, or more affectionately called Ginjinha, is a cherry liquor. It is obtained from the maceration of cherries in brandy (Portuguese brandy very exactly). Sugar, water and cinnamon are added. This drink is extremely popular throughout Portugal but particularly in Lisbon, but also in Óbidos, Alcobaça and Algarve. Its popularity has made this drink a real tourist attraction. Many shops serve and sell only Ginjinha in the historic center of the Portuguese capital, especially in the Baixa. The Ginja is either served with the fruit at the bottom of the glass (com elas – with it) or without (sem elas – without it). Lastly, in Portugal we take this alcohol very seriously because its production is regulated by a label of origin. 150,000 liters of this drink are produced each year in the country.
The liqueurs and alcohols not to be missed : bitter almond liquor (Amêndoa Amarga), aromatic plants liquor (Licor Beirão), brandy (Aguardente), Sweet Wines (Moscatel de Setúbal, Moscatel do Douro)
The best places to buy Ginjinha or Portuguese liqueurs :
---
BOOK YOUR ACTIVITIES AND ATTRACTIONS IN LISBON >>> HERE
---
4. SALPICAO – Portuguese smoked sausage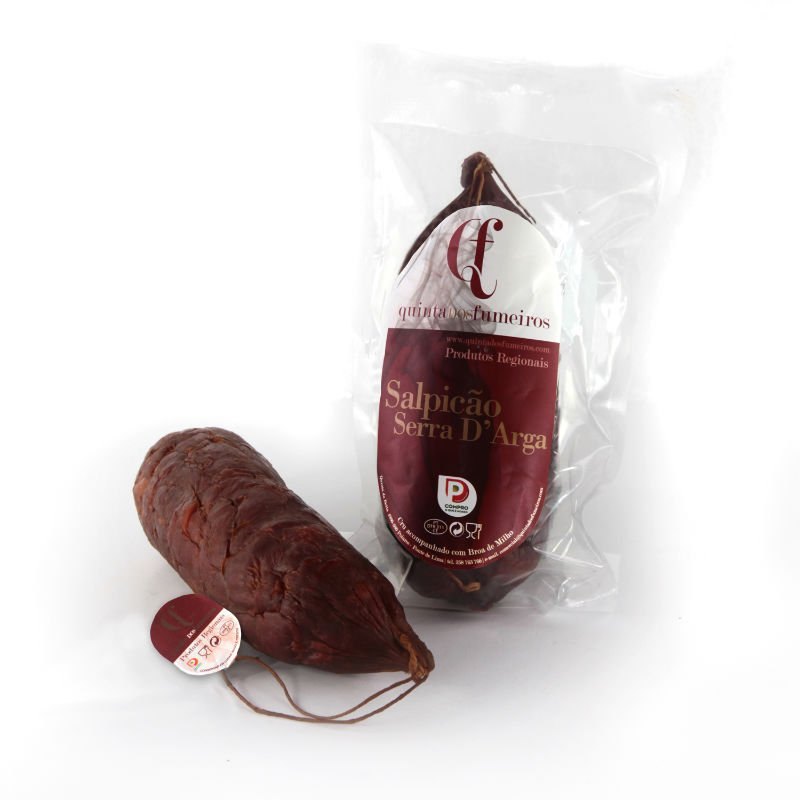 Salpicão is the best sausage in Portugal, the most noble and the most traditional. This is the delicatessen that you will find certainly on all the tables of the country. It is made from smoked pork tenderloin, salt, white or red wine, garlic, sweet or pungent color and laurel are added. Salpicão is light brown, cylindrical and about 15 cm long. This sausage is said to originate from northern Portugal (Trás-os-Montes), its production would have started in the 17th century. It is an ideal aperitif served raw, cut into thin slices or larger pieces, usually accompanied by bread and wine.
Other meats not to be missed : Paio (big sausage), Chouriço (smoked sausage made from red wine or white wine, to cook or to brais)
The best places to buy Portuguese delicatessen in Lisbon :
---
5. A BOTTLE OF GRAND CRU OLIVE OIL – To discover absolutely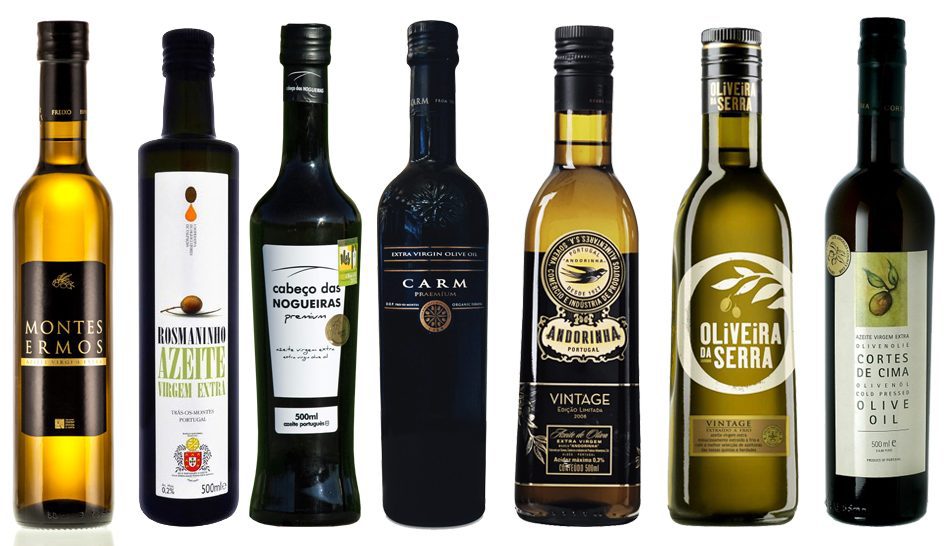 Les marques d'huile d'olive à acheter : Monte Ermos, Rosmaninho, Cabeço das Nogueiras, Carm, Andorinha, Oliveira da Serra, Cortes de Cima, Esporão. Privilégiez les huiles d'olive de ces marques dans des éditions "spéciales" et avec peu d'acidité (0,5° maximum).
Olive oil (azeite) is an integral part of the Portuguese gastronomic culture. The country is the world's 8th largest producer of olive oil and the world's 9th largest consumer per inhabitants (2012 figures), a huge performance considering the modest size of Portugal. Nearly 150 olive oil productions are considered to be of excellent quality and participate each year in national and international competitions, many are awarded. Quality and excellence are becoming more and more popular every year for Portuguese olive oils and they should be even more internationally recognized, such as Italian or Spanish olive oils. In 2014, Oliveira da Serra brand – Lagar do Marmelo, even won the award for Best Olive Oil in the World, an extraordinary performance.
The brands of olive oil to buy : Monte Ermos, Rosmaninho, Cabeço das Nogueiras, Carm, Andorinha, Oliveira da Serra, Cortes de Cima, Esporão. Favor the olive oils of these brands in "special" editions and with little acidity (0.5 ° maximum).
The best places to buy good olive oils in Lisbon :
---
6. A BOTTLE OF RED WINE AND / OR A BOTTLE OF WHITE WINE – To savor and to discover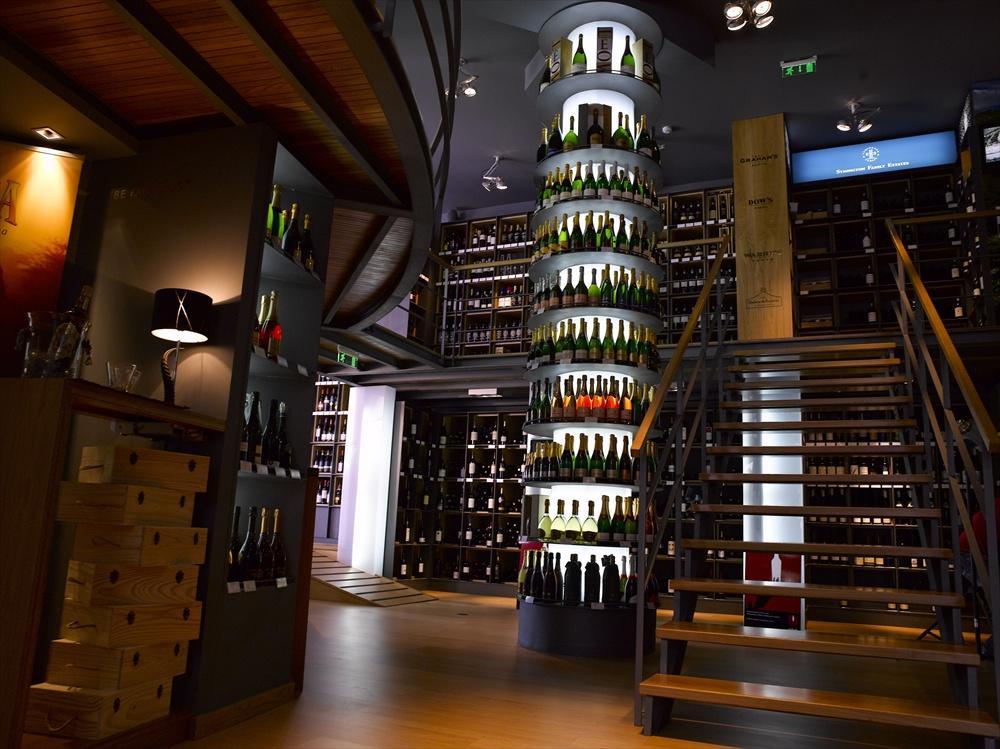 Portugal is the ninth wine-exporting country in the world (2013 figures). The vines appeared in Portugal in the 17th century, as in Spain. At that time, during the conflict between France and England, the war engendered a blockade of French ports and the impossibility of exporting wines out of France. Thus, the English eased customs taxes on Portuguese wines and the wine sector experienced a boom in the country. At the same time, two English merchants discovered by chance a wine that was married to brandy, a manufacturing secret of the abbot who made it. This wine met a great success in England since its commercialization, the wine of Porto had just been born.
As you can see, it is essential to bring back at least one good bottle of wine from your stay in Lisbon. You will discover wines with strong character because the Portuguese wine has not yet yielded to the standardization of its taste to export better. Unlike Bordeaux wines in particular, which have given way to standardization with a sweet and woody taste that is fashionable in recent years.
Designations and brands to buy : Setúbal (ex : Periquita), Alentejo (ex : Monte Velho), Bairrada, Ribatejo, Porto & Douro (ex : Duas Quintas), Vinho Verde (ex : Ponte de Lima, Muralhas de Monçao)
The best places to buy good bottles of wine in Lisbon :
---
BOOK YOUR ACTIVITIES AND ATTRACTIONS IN LISBON >>> HERE
---
7. COFFEE – You will not be able to do without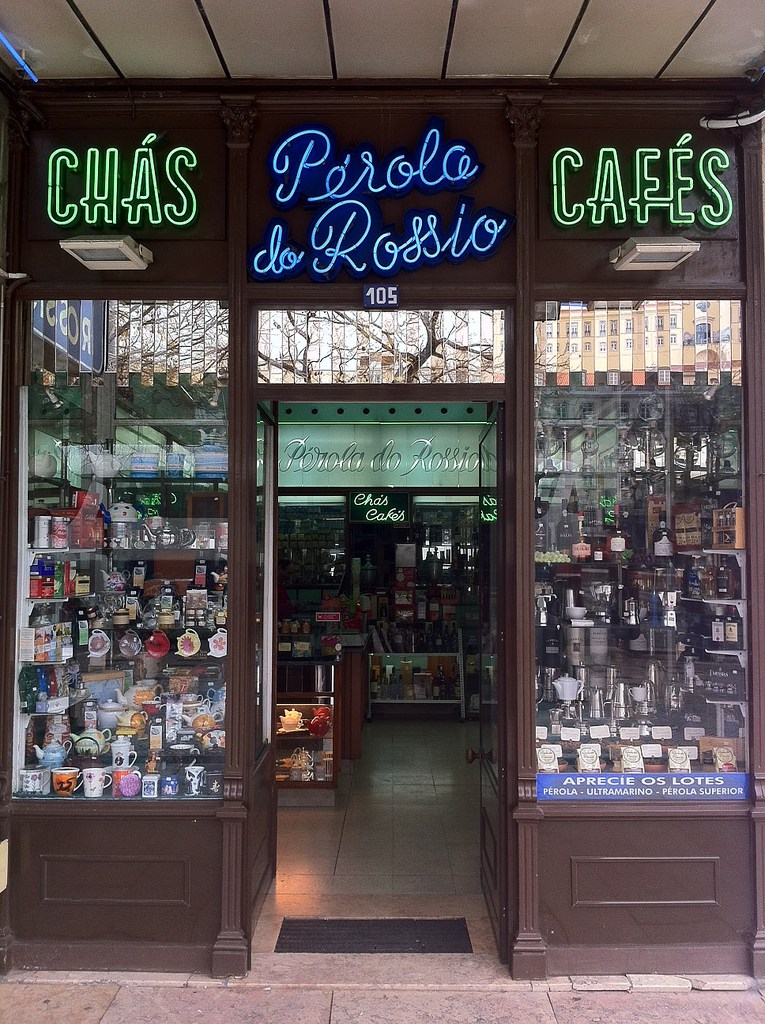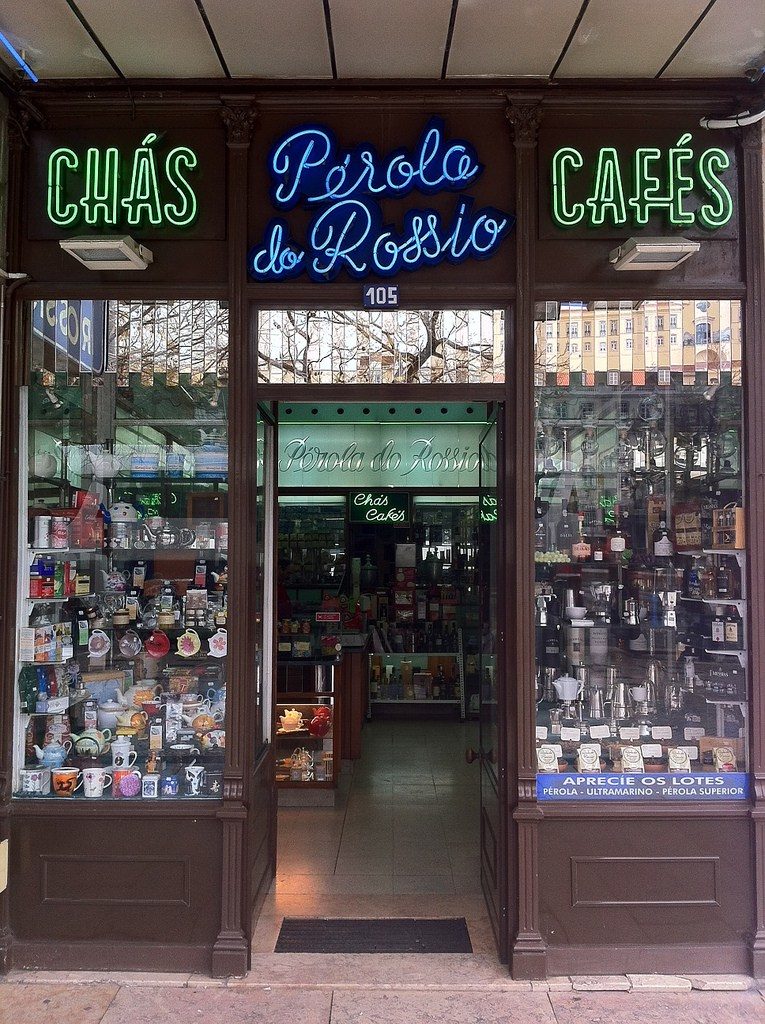 Born in Ethiopia, coffee then spread to Arab countries. It was the Portuguese who were the first Westerners to discover coffee in the 15th century. The great navigators brought them back into the holds of their boats on their return from their expeditions. Coffee and Portuguese is a big story. You will realize this as you walk in Lisbon. At any time, Lisboners drink coffee. In the morning and after meals, it's a real institution. And this tradition is the same throughout Portugal. So, it is unimaginable for a pastelaria, a bar, a cafe or a restaurant to offer a coffee that is not excellent. The risk of losing customers would be too great. The Portuguese of the south and so of Lisbon have given a small female nickname to coffee: the "Bica". Legend is about a well-known café in Lisbon, A Brasileira, that decided to sell its first espresso. As the taste was bitter for this new drink, the owner of the establishment would have invented the slogan Beba Isto Com Açucar, in other words "Drink this with Sugar". By reducing the slogan to its initials, we would have obtained BICA, the nickname of the espresso coffee for many Portuguese. The legend was born.
In Lisbon, you will find enough coffee, many establishments sell it as a souvenir to bring back and also because there is always a possibility that a Portuguese need to buy a coffee package at any time. Do not hesitate to ask the seller of the shop to choose the most appropriate coffee for your taste. And do not hesitate to bring tea for your weekend or trip to Lisbon.
The best places to buy good coffee (coffee) or good teas (chás) in Lisbon :
---
8. CHEESE – There will necessarily be one for your taste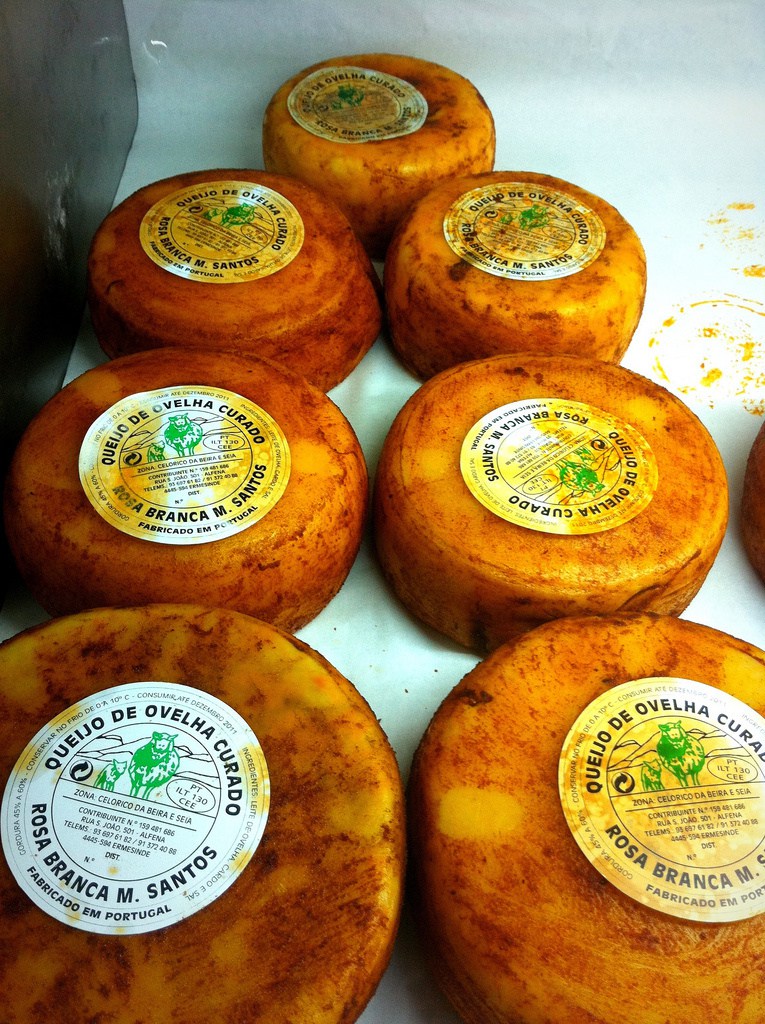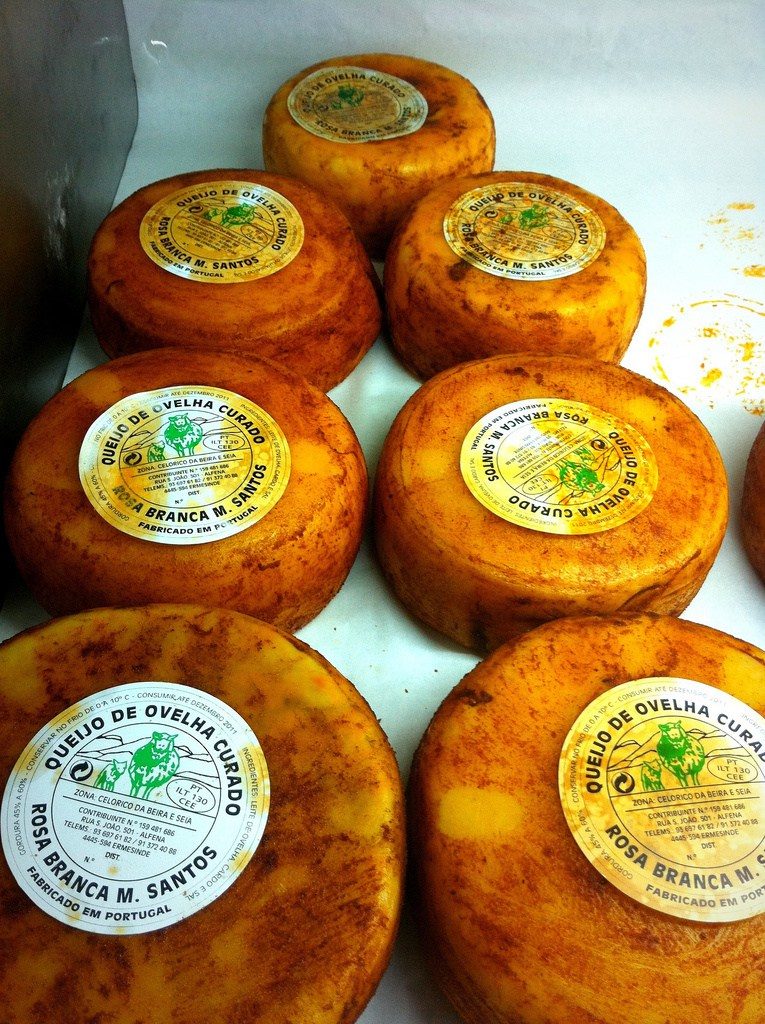 Cheese is an integral part of Portuguese gastronomy. There is a huge choice of cheeses in Portugal, from all over the country, in different types of dough and tastes very varied. 15 Portuguese cheeses already benefit from a Protected Designation of Origin (Denominação de Origem Protegida – DOP), which guarantees production in a defined area using traditional manufacturing methods. The best-known and most popular Portuguese cheeses are produced in spring in remote areas of the country (mountains and central plateau) and on the Azores archipelago.
If during your stay in Lisbon, you go to a cheese factory or a wine bar, you will find that Portuguese people enjoy eating their cheese in a sweet and salty way, accompanied by marmelada (marmalade or quince paste). To this accompaniment, a glass of Porto or Portuguese red wine is often added.
Cheeses to bring back from Lisbon :
cheeses from the north of the country

: Queijo de Cabra Transmontano (goat cheese from Tras-os-Montes), Terrincho (with raw goat's milk).

cheeses from the center of the country

: Queijo da Serra da Estrela (Portugal's most famous cheese, it is fresh or semi-refined and produced in the mountainous region of the country, Nisa (with sheep's milk), Rabaçal (with milk goat and sheep), Castelo Branco (sheep's milk).

Lisbon cheese

: Azeitão is a creamy cheese made from raw sheep's milk in the town of Azeitão, about 40 km south of Lisbon.

Alentejo cheese

s : Serpa (sheep's milk), Évora (unpasteurized sheep's milk, its version preserved in olive oil is nicknamed Queijinho do Alentejo).

Azorean cheeses

: Ilha de São Jorge or Queijo da Ilha (with cow's milk), Pico (with cow's milk)
The best cheese factories in Lisbon :
---
9. A MINIATURE TRAMWAY – For young and old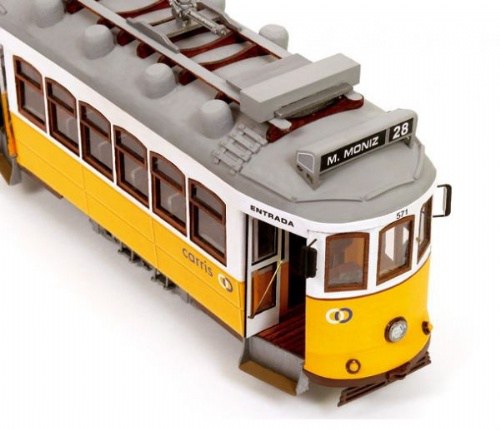 The tram with pastel de nata and sardines are what characterizes the most Lisbon abroad and for tourists. So, as if you were bringing back a Statue of Liberty or a miniature taxi from New York, I'll tell you why not bring back a miniature tram from Lisbon ? This gift will please both young and old. Miniature trams can be found in all the souvenir shops, either in the city center, in the hotels or in the shops of the railway stations and airports. There exist in all sizes and all prices.
The best is to return from Lisbon with a reproduction of tram 28, the most famous line that goes around the main historic districts. For the most passionate, there are reproductions of almost all models of tram at the Carris Museum, the company that operates the tram and bus lines of Lisbon.
Other souvenirs to bring back from Lisbon : cork objects (Portugal is the world's leading producer)
Check out my article on where to buy gifts and souvenirs in Lisbon
---
BOOK YOUR ACTIVITIES AND ATTRACTIONS IN LISBON >>> HERE
---
10. DES AZULEJOS – Rapportez un bout d'histoire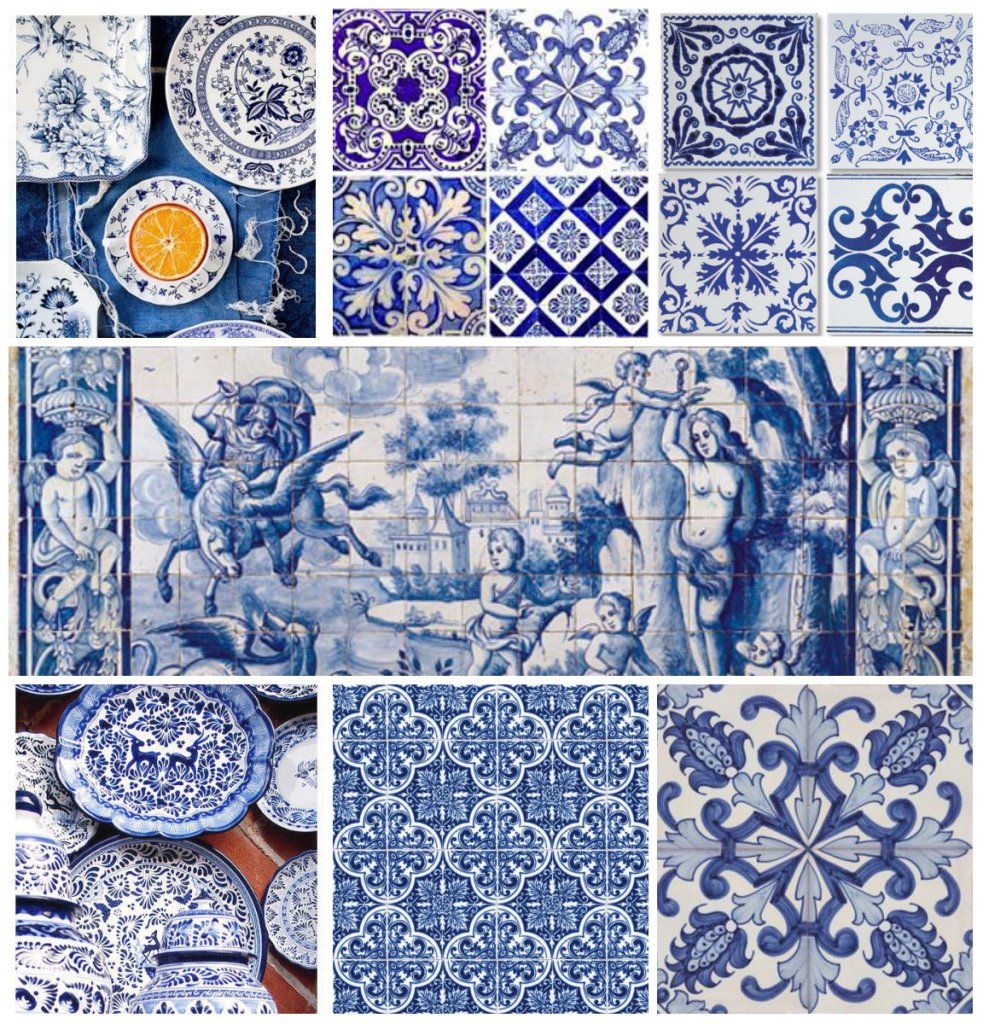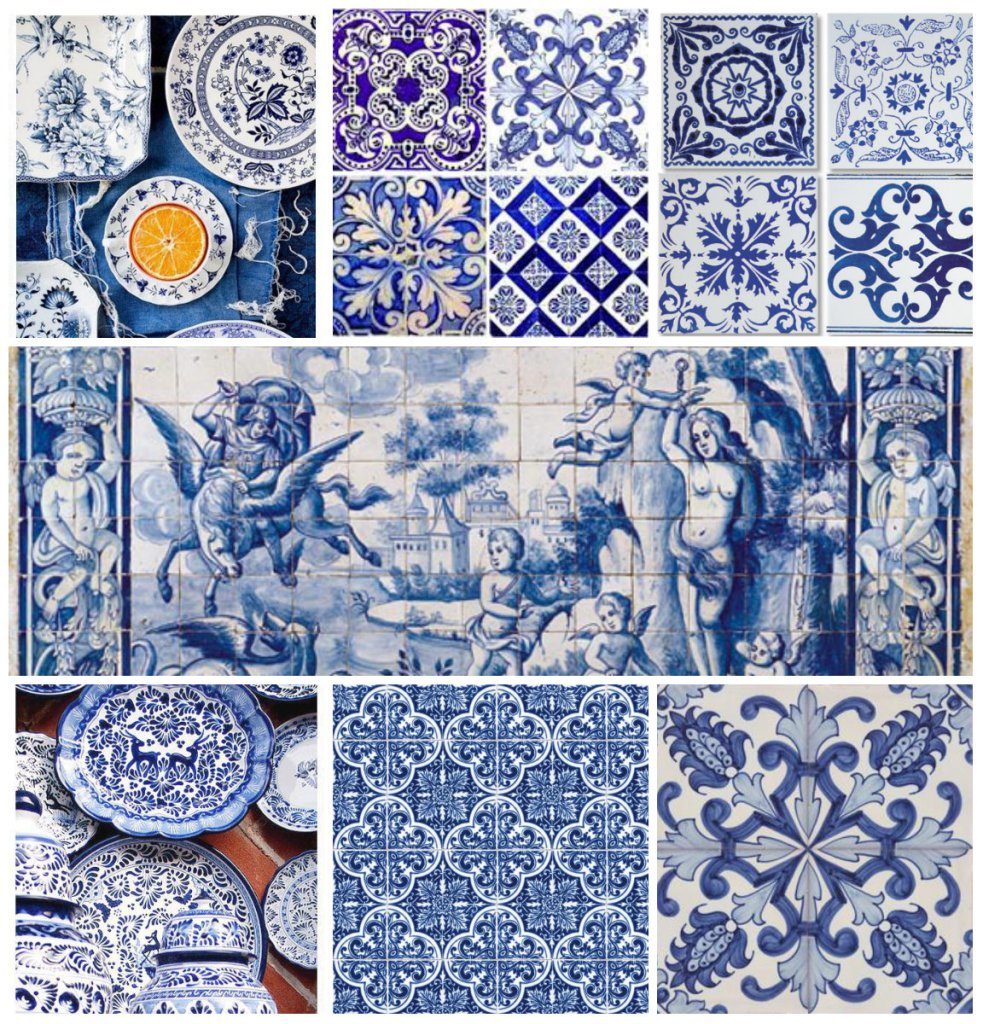 As soon as you arrive in Lisbon, you will not miss the tiles as they are everywhere : on the facades of old buildings, on the interior walls of old shops, churches, metro stations, souvenir shops and maybe even in your hotel room. Do you see what I'm talking about? These are the famous tiles of faience painted by hand, often blue and white but also multicolored. In the 14th century, the Moors who occupied the Iberian peninsula since the 8th century (Spain and Portugal) brought with them "al zulayd" (polished stone) to decorate palaces and mosques. After the departure of the Moors in the 15th century, Seville became a center of production of these famous azulejos for the whole peninsula. In the 16th century, the Portuguese produced their own faience tiles painted in blue and white. From the 17th century, they make multicolored tiles. And in the 18th century, they make real paintings in azulejos. In the 19th century, the production of azulejos reached peaks because many palaces are renovated thanks to the fortune that some have made in Brazil. Today, the tradition continues and craftsmen continue to manufacture tiles with the same technique, more than 500 years old. In some shops, you can buy azulejos produced as 200 years ago.
Other handicrafts to bring back from Lisbon : pieces of tableware or decoration painted like aluzejos, dishes from the house Vista Alegre (a brand that equips the Queen of England)
The best places to buy azulejos in Lisbon :
---
You now know the 10 essential souvenirs to bring back from your weekend or trip to Lisbon. Need the best addresses to find theses souvenirs, go to my article "Where to buy souvenirs and gifts in Lisbon ?".